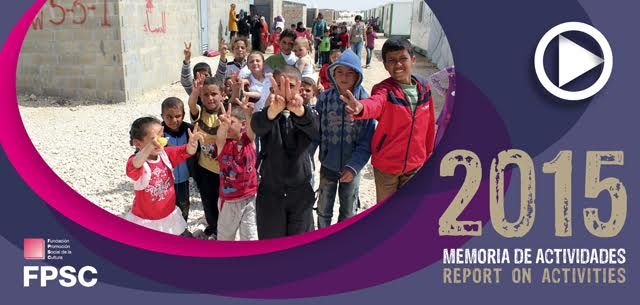 Queridos amigos:
Dear friends,
Me dirijo a vosotros como Presidenta de esta Institución para comunicaros que la Fundación Promoción Social de la Cultura (FPSC) publica su Memoria Anual e Información Económica correspondiente al año 2015, con el resumen de su actividad y los acontecimientos más destacados a lo largo de este periodo.
As President of the Foundation for the Social Promotion of Culture (FPSC) I would like to present to you the annual Report on Activities and the corresponding economical information for the year 2015. The Report includes a summary of the activities and the most important events along this period.
En esta ocasión, hemos diseñado una versión más resumida, con el deseo de facilitar su consulta, y poder ofrecer de manera más ágil una visión general de nuestro trabajo, desde todas nuestras áreas de actividad.
On this occasion, we have designed a more condensed version with the intention to provide friendly and accurate information about our work during this year.
La Memoria de Actividades 2015 está disponible, además, en la sección "publicaciones" de nuestra página web: http://www.fundacionfpsc.org
The 2015 Report on Activities is now available in the «publications" section at our website: http://www.fundacionfpsc.org/eng
Aprovecho estas líneas para expresar, un año más, mi agradecimiento y el de la FPSC a todos los que nos ayudan y hacen posible nuestro trabajo: a las instituciones públicas y privadas, a los donantes que mantienen su confianza y su generosa aportación económica en favor de quienes más lo necesitan, a las personas y entidades que colaboran con nosotros de diversos modos, y al equipo de técnicos y voluntarios de la FPSC.
I would like to take this opportunity, one year more, to express my gratitude and from the FPSC team, to all those who in one way or another make it possible our work: to the public and private institutions, to the donors that keep their confidence and their generous economic contribution for the people in need, individuals and organizations that collaborate with us in different ways and to the technical support team and volunteers of the FPSC.
Un cordial saludo,
Kind Regards,
Jumana Trad
Presidenta
President