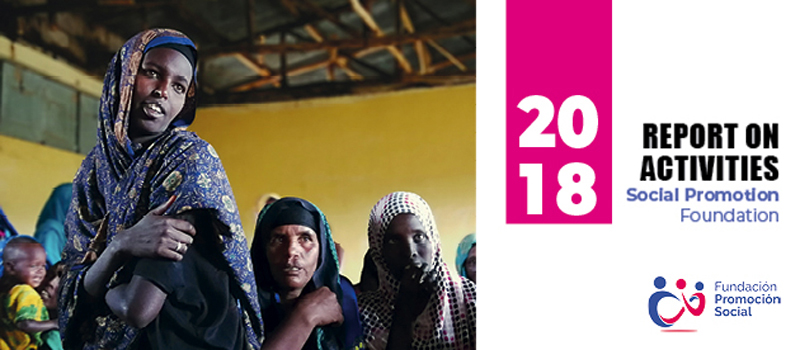 Dear friends,
One more year, I am pleased to present the Report on Activities of the Social Promotion Foundation, with the summary of their work and the economic information corresponding to the year 2018.
In 2018, cooperation for development has continued to be our priority area of action, having developed 25 projects in Asia, Africa and Latin America, whose activities will help improve the living conditions of more than 140,000 people.
To this end, the development of rural communities has been focused on, with actions that contribute to the correct management and access to water resources and agricultural development, improving the food security of the population. Health or education have also been priority sectors in our work. But, undoubtedly, the woman, and her training, training her for her insertion in the productive processes and in the labor market, has vertebrate, if not totally, an important part of our cooperation projects.
But our efforts have also been directed towards humanitarian aid, without forgetting those who continue to suffer the consequences of the conflict in Syria; or to young people, promoting their integral formation and their role in society, with actions that favor their leadership and social commitment.
I encourage you to discover all this, and many other activities that seek to promote human development in all its aspects, in the pages of the 2018 Report.
As you know, all this work would not be possible without you, public and private funders, donors, partners, team and volunteers of the Foundation. I thank, for that, that you are part of our history and I count on that we continue adding years together, to continue promoting the dignity of the people in the world, especially the most vulnerable, and make them protagonists of their own development.
Yours faithfully,
Jumana Trad,
President