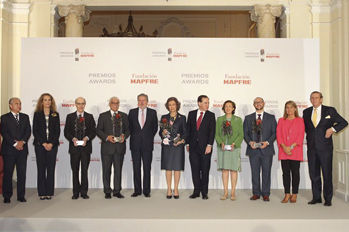 Since the beginning of the Syrian conflict, in 2011, the FPSC has carried out a significant amount of humanitarian work with three purposes: to save lives, to alleviate the suffering and to protect human dignity. The FPSC is the only Spanish NGO present in the Jordanian refugee camp of Za'atari, where since 2013 a clinic specialized in physiotherapy and rehabilitation services for the disabled refugees is installed, particularly working with children with cerebral palsy by offering them therapeutic and psychosocial services, medications and technical aids (from canes and crutches to wheelchairs and orthopedic devices). Since the clinic was inaugurated, the FPSC has worked with 2,050 people, providing technical aids to 70% of them.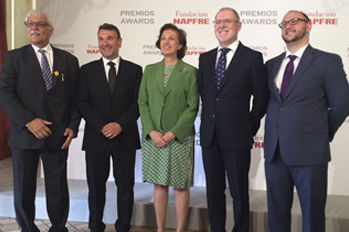 On the part of the FPSC, Mrs. Jumana Trad, President of the Foundation received the Award from Her Majesty, and then she held her speech.
The preice-giving ceremony of the FUNDACION MAPFRE AWARDS 2015, was held in Casino de Madrid, located at Calle Alcalá, 15, Madrid. It was chaired by Her Magesty Queen Sofía, who awarded the prizes to the winners, by Mr. Antonio Huertas, President of the Fundacion MAPFRE, who held the inaugural speech, and by Mr. Íñigo Méndez de Vigo y Montojo, Minister of Education, Culture and Sport.
In this edition, Fundacion MAPFRE has granted the Award to a Professional Career (José Manuel Martínez Martínez) to Her Majesty Queen Sofia, for her work in the promotion of concord and cohabitation and the encouragement of democratic values, and for its dedication to improve the situation of the most vulnerable people through several social and assistance activities, with particular attention to childhood and women.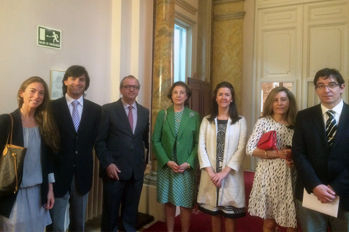 The Award to the Best Initiative in Prevention and Road Safety has been granted to the European Federation of Road Traffic Victims (FEVR) for its project Do not forget the serious injured road traffic victims.
The Award to the Best Initiative in Health Promotion has been granted in this edition of the Fundacion MAPFRE Awards to Action Against Hunger Foundation, for its project ANEMIA NO. Fight the anemia in Peru's Central Sierra.
The International Insurance Award (Julio Castelo Matrán) was granted to Ohio Insurance Institute for its innovative initiative in the field of insurance and employability and for the transferability of the performance to other countries or regions.