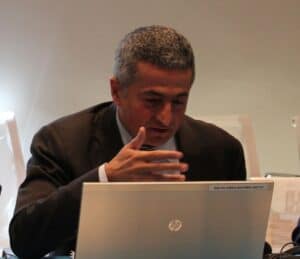 Youssef El-Khalil has been appointed Finance Minister in the newly formed government of Prime Minister Najib Mikati.
Youssef El-Khalil is President of the Association for the Development of Rural Capacities (ADR), a Lebanese organization member of the Euro-Arab Network of NGOs for Development and Integration (READI), which works with the objective of training individuals, marginalized or disadvantaged groups or communities and help them improve their living conditions, mainly in the south of the country.
Youssef El-Khalil, a senior official of the Central Bank of Lebanon (BDL), is Director of Financial Operations at the BDL and President of the Lebanese Microfinance Association (LMFA).
Youssef El-Khalil holds a PhD in Economics from the Centre d'Etudes et de Recherche sur le Développement International (CERDI) in France.
He also holds a Master's degree in Economic Development from the University of Sussex in the UK and a BA in Economics from the American University of Beirut (AUB).
From READI we wish him the greatest success and achievements in such a delicate and complex moment Lebanon is going through.