«Ensuring Lybian Women's Equal Participation in the Humanitarian, Peace and Transnational Recovery Processes» was the title of a one-day meeting of the regional European Union (EU) and UN Women joint Programme » The Spring Forward for Women», funded by the European Union. The encounter took place in Tunis (Tunisia) on 7 September 2016 and it saw the participation of not only Libyan women but also from abroad, international actors, UN agencies, donors and NGOs. The meeting aimed at ensuring secure spaces for women in the humanitarian, peace and transitional processes, through four paths 1.rebuilding the state 2.protection 3.prevention and 4.participation.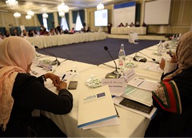 Since 2012, the European Union along with the United Nations is committed to foster women participation in decision-making processes advocating for an inclusive gender responsive constitution. In 2014, the European Union analyzed Libyan context and European Union strategy in Libya through a gender approach. They came to the conclusion that women had difficulties in guaranteeing their place in political and public decision-making processes and in the economic sphere. Moreover women lacked awareness and experience in civic and political participation.
Throughout the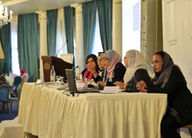 meeting, networking, knowledge and experience were exchanged. Such was the case with Libyan women who had the chance to share their experiences. These speeches permitted the identification of future actions that can be undertaken and served as the basis to ensure the continuity of women's equal and active political engagement and participation.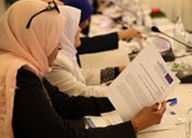 After constructive discussions and long debates, Libyan women and national and international representatives concluded: 1. the importance of supporting gender equality and women empowerment (GEWE) as being a key issue to achieve peace and security, human rights and sustainable development; 2. The necessity of engaging men in ensuring the prevention, protection and participation of women in Libya 3.The identification of the mechanisms in order to guarantee women protection from violence and discrimination and 4. The encouragement and support for young women in the field of decision-making process in Libya.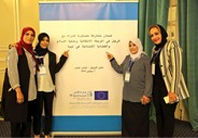 The Spring Forward for Women Programme is a Regional Programme for the Economic and Political Empowerment of Women in the Southern Mediterranean Region which seeks to develop the economic and political empowerment of women in the Region. The four-year Programme (2012-2016) is focused in countries undergoing unrest, transition and reform such as Egypt, Jordan, Libya, Palestine and Tunisia. It provides mechanisms that allow marginalized women to receive capacity building, advocacy, information and partnerships. By all these mechanisms women in the Southern Mediterranean Region will be able to address barriers that have disabled their access, participation and engagement in public space.
Article:United Nations Support Mission in Libya published on 7 September 2008