The former Iraqi Minister of Migration and Displaced appeared before the media to denounce the critical situation of Christians in Iraq.
She denounced the neglect of her Government, in their responsibilities when it comes to defending its citizens; the critical situation of Christians, persecuted and fleeing along with the grave situation of insecurity in which they find themselves, and  the lack of international response to the barbarism being committed.
Pascale Warda stressed the fact of the presence of Christians in Iraq since the first century, long before the arrival of Islam, and condemned the genocide who are suffering Christians in their country over generations.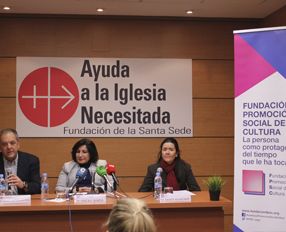 Pascale Warda is a Chaldean Catholic, founder of the Iraqi Society for Human Rights (ISHR) and president of the Hammurabi Human Rights organization. She works to defend human rights without distinction of religion, but notes that only the Christian minority is concerned with the common good of everyone in her country.
The former minister denounces IE in their attempt to "annihilate» the presence of Christians and of all social and religious minority in their country, but warns that although today IE act in Iraq and the region, tomorrow can do it in Western countries. She claims for international collaboration and immediate intervention.
The meeting was organized by AIN and the FPSC and provided the framework for the support of Pascale Warda campaigns that both organizations are developing in Iraq to support persecuted Christians.
AIN launched in December the largest campaign in its history to support the 120,000 Iraqi Christian refugees in Kurdistan.
The FPSC develops the campaign to help persecuted and refugees Christian's families in Baghdad: «
A Shout of Encouragement
«, where at the request of the Catholic Patriarch of the Chaldeans in Babylon, is channeling aid to alleviate a hard precarious situation unexpected.
This is the case of four Sisters of the Sacred Heart, who, having themselves been victims of the threat of ISIS and displaced, are housed  in a former  school next to the church of Our. Sra. Del Rosario, in the Shiite district of Karrada and serve dozens of Christian families from Mosul, Batnaya, Tall Kayf, Qaraqosh and Bartala
It is estimated that more than 5,000 families have found refuge in the Iraqi capital.
«In Irak is taking place a real genocide» denounced Pascale Warda at the FPSC and AIN meeting